Updates 15 July 2021
Smile Through Sport – Summer Activities
Smile Through Sport are offering a range of summer activities which you can now book here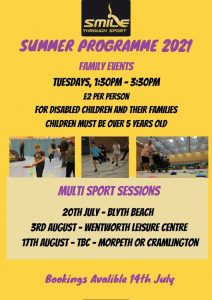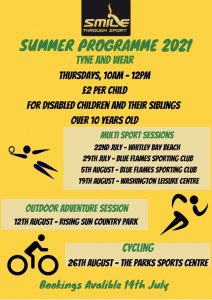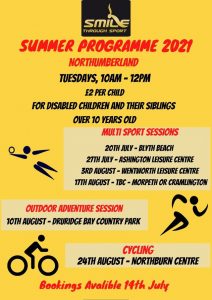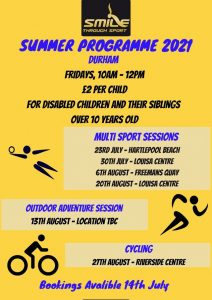 Updates 1st July 2021
Sport North Tyneside Inclusive Swimming Sessions
Sport North Tyneside offer a number of inclusive swimming sessions at their pools.  To find out more visit https://www.sportnorthtyneside.org.uk/inclusive-swimming/
UPDATES 25th June 2021
Percy Hedley Virtual Race Night 2 
Join us at 7.30pm on Friday 9th July for an exciting evening of light-hearted fun with our second Virtual Race Night, supported by BCB Rentals Ltd 
The evening consists of eight horse races, all hosted by BBC Radio Newcastle DJ Stefan Peddy. Your racing ticket, only £10, includes one selection in each of the eight races shown throughout the evening. Percy Hedley Points will be awarded to participants with the winning horse in each race, with the grand prize going to the participant with the most points overall. 
There will be gags and anecdotes a plenty with 90 minutes of fantastic entertainment but who will be top of the leaderboard in the final furlong?! 
Click the link below to buy race tickets: 
https://register.enthuse.com/ps/event/ThePercyHedleyFoundationVirtualRaceNight2 
Tim Lamb Centre 
I visited the above this week, as invites were extended to professionals to drop in. I was absolutely amazed at the work they have done over lockdown. There is an accessible swing in situ, with plans for an accessible roundabout to be added soon. Their sensory room and indoor spaces have all been upgraded and made COVID safe. They have just re-opened and at present can only be visited by pre-booking. Family membership is £15 per annum with a charge of £3 per child per visit.   
Visit their website at https://pathways4all.co.uk/ 
PTA News 
The PTA committee is incredibly disappointed that we have had to defer our long-awaited opportunity to reunite families. We wish to thank Claire Snowdon, the foundations Health and Safety Manager for attending a meeting with us yesterday at short notice. We will be watching, with bated breath the COVID exit plan over the summer.  
Thank you to our incredible families and staff for your generous donations which we will retain in anticipation of the new date. We hope that it will be the beginning of a return to normal, where we can meet again and hope that our leavers will return to enjoy the day. 
In the meantime, we have chocolate which we need to use. Our Post 16 students are making  krispy cakes which will be available for sale on Monday at a cost of £1 for 4. These will be made safely and quarantined over the weekend. Please send in £1 on Monday with your child. At this stage, I have no idea how many will be available, so it will be on a first come, first served basis. This will enable to PTA to recoup some of the costs already incurred for the summer fayre. I was visited this morning by 2 very enthusiastic students and the PTA will greatly appreciate your support of their efforts. 
We have a gift voucher we intended using for the raffle of an overnight stay for 2 at the Manor House Hotel. As this expires at the end of September, we intend setting up a draw. Details will be shared once finalised.  
Join PTA Facebook page here: Percy Hedley School PTA | Facebook  
——
September 2020
We've worked through the new government guidance for school from September 2020 and put together a video to help you know how we will keep our students and staff as safe as we possibly can:
—–
Pupil Data Collection (Existing Students Only)
If your child or children already attend Percy Hedley School, can we please ask that you complete the forms below before 1st September 2020. Thank you.
Percy Hedley PTA 100 Club – £12 per number
Pupil data & medical collection