Conductive Education (CE)  is an educational approach which was developed in Hungary to meet the needs of children with neurological and motor disorders.  At Percy Hedley School we have adapted the principles of pure Conductive Education and integrated them with the requirements of the British educational system and National Curriculum.  All students with neurological disorders participate in the traditional task series and work to practise and generalise the motor skills they have learnt during daily targeted activities.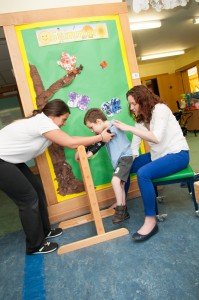 Where possible students actively transfer between sessions and all situations are used as learning opportunities as students walk to the toilet or stretch their arms for a piece of equipment. The language and rhythm of Conductive Education are unique tools, which facilitate children to successfully execute movements. This language is used throughout the day to help students internalise the movements they are completing through all sessions. All learning activities provide opportunities to practise sitting, standing and walking skills and to work on head control or fine motor skills.
Conductive Education is a child centred, holistic methodology based on developing a problem solving personality and maximising independence. At Percy Hedley we have successfully applied these methods to students with a range of physical and cognitive abilities.
At Percy Hedley School we have an increasing number of students with complex learning difficulties and disabilities (CLDD). A traditional Conductive Education method would not be best suited to these pupils yet elements within the CE programme have proven of great benefit.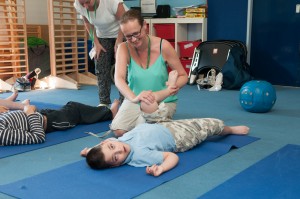 The key principles of CE
The child is a unified whole
CE targets the whole personality
Activity and intention
Continuity and consistency
CE is an interdisciplinary model
These principles can be applied to the complex curriculum we use with our pupils, however the practice itself differs.
A traditional task series is not beneficial to use with these pupils as processing delays and sensory impairments mean we cannot make use of the group or rhythmical intention. However, pupils complete a movement programme in which they work collectively on the same task at the same time, yet at their own pace and with facilitation as necessary. We still encourage active movement at all times and encourage pupils do to as much as they can independently.
The daily routine and continuity of staff and activity, allow our pupils to make sense of the world around them and to develop as much control as they are able.  All activities and sessions are based on developing the pupils' personality and an individualised targeted approach of the curriculum.
Physiotherapists, Occupational therapists and speech and language therapists work alongside teachers and support staff in a fully integrated work focussing on the needs of the pupil. Targets are shared and aim towards holistic development in all areas.
As well as offering CE to students in our school, we also provide a free 'School for Parents', where we teach conductive education methods to parents who work with their own children from 3 months of age.