Cat and Dog Shelter.
We love sharing the accomplishments of our students. You will remember that our Lower School Students, led by Class 3JS undertook a challenge to raise funds for the Cat and Dog Shelter with a target of £500. They have smashed this, and we are so proud of them.
John has informed me that they have now raised £1057.
Well done to everyone, the students who walked, the parents and staff who sponsored and the staff who supported them.
This will make such a difference.
Project Linus, Northumbria.
We had a visit in school this week from Liz Villablos McKenna with another delivery of beautiful quilts and blankets which will be passed on to students. This group met regularly, but lockdown has meant they wanted something productive to do. Some live alone and have thoroughly enjoyed seeing their work appreciated. If you receive one, the name of the quilter is on the label and it would be great if you mention them by name and post on their Facebook page.
Photo with RR Class, with Liz in the back row of the photo.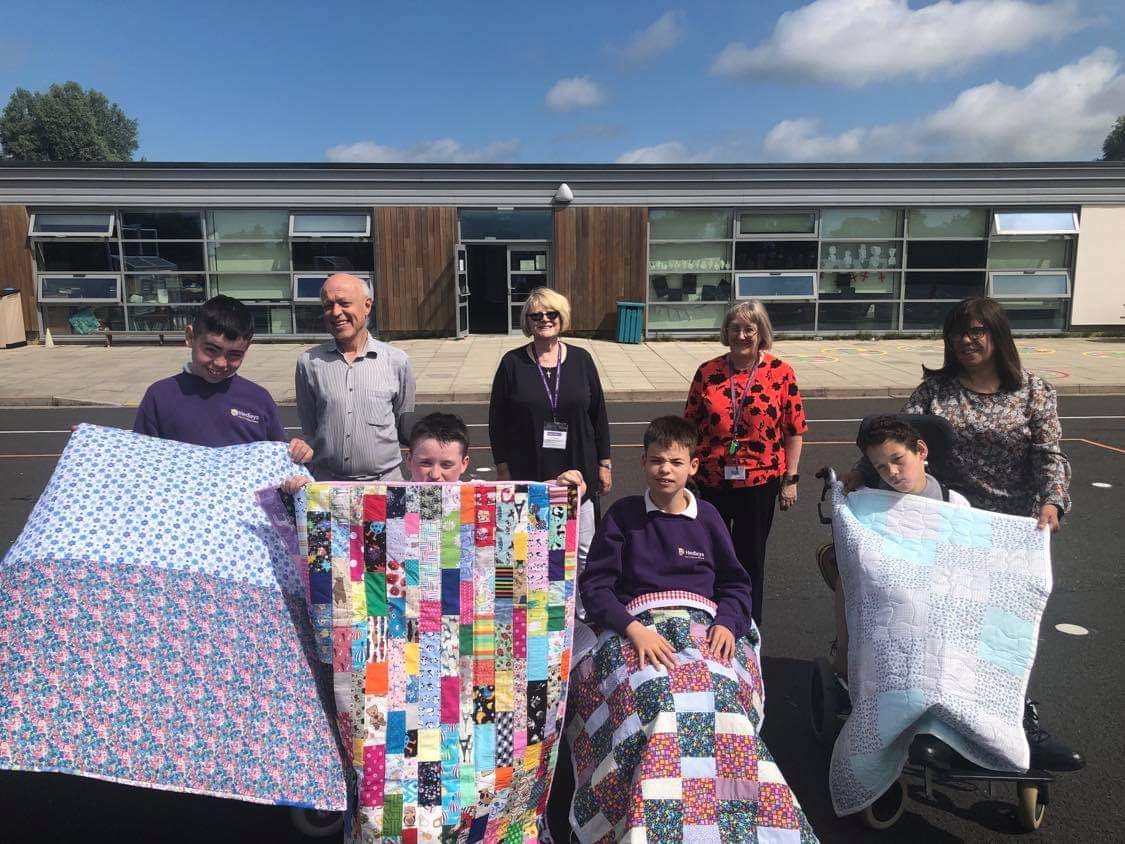 PTA
Plans are progressing for our postponed Summer Fayre on Saturday 18th September, our families are amazing and we have had so many donations, now safely under lock and key ready for September.
As we will be doing this close to the start of term any offers of help would be appreciated.
Thanks to all who supported our number draw. All 300 numbers have sold, and the draw will be done by tomorrow and the winner contacted. Do join the Facebook page as the winner's name will be advertised there. View the PTA page here
PTA 100 Club Draw
We drew the remaining 6 numbers on Wednesday and details forwarded to finance to send out the winners cheques. The winners are:
Number:
39        Lisa Buckham
21        Jo Thomas
16        Lorraine Whitney
44        Phil and Nicola Berriman
47        Bill and Eve Mortson
15        Donna Jones
Cheques to the value of £30 each (we sold some more since the last draw) have been requested from finance and will be sent out over the summer. The 100 Club is such an easy way to support the PTA. With 50% of funds covering the cost of our annual memberships it ensures that we can still run legally and support school. Do consider joining again next year. Forms will be sent out in September and will be available at the summer fayre.
I would like to thank the parent committee without whom we could not function.
So, to our Chair Donna Jones, Vice Chair Sarah Warwick, Secretary Chris Fewster and Ros Holden our Treasurer. In school Jo Thomas, Media and Events and Claire Hayden, School and School Council Link support the PTA in so many ways. Thanks to John Steward who has engaged, attending most meetings, Maria Hallett, Fund-raising and Danny Watson, Chair of the Student Council. Let's hope that in the next academic year we can meet up in person as well as via Teams
I could not end this without special thanks to Chris Fewster, who has supported us in so many ways this year. Here's a snapshot:
Gifts for Winter Wonderland
Toys and games for school.
Easter Eggs
Manor House Gift Certificate
Donations for the summer fayre
Funded 1 day of Circus Skills
Funded 2 other events which will be held next term. We had to postpone due to the rising COVID numbers. These are a Magic Show for what is now Yellow Bubble and an African drumming day for what is now Blue Bubble. Chris you are just amazing.
Social Events:
There are plans to arrange social meetings over the summer for families. These will be advertised on the Facebook page and are not being run by school. The plan is that 1-2 parents will arrange the first, with others taking on the next one.
And all that's left for me to say is thank you to everyone who has supported us in some many ways. Have a lovely summer. ☀️☀️